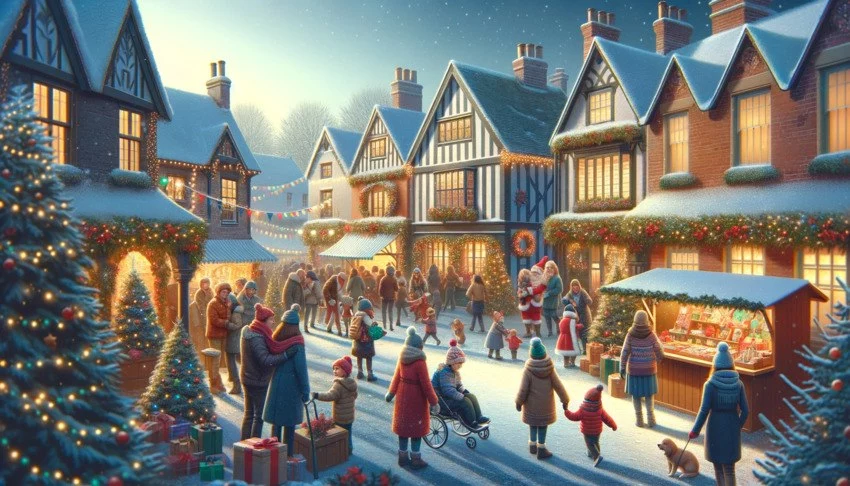 As the festive season dawns upon Medway, the region transforms into a wonderland of joyous activities suitable for all ages. This guide offers a glimpse into the family-friendly events that promise to make your Christmas in Medway unforgettable.
Chatham's Festive Cheer
"That'll Be The Day" Christmas Show (12th Nov): Kickstart the festive season with this dynamic Christmas show.
Santa Parade (18th Nov): Experience the enchantment of the Santa Parade, a highlight for families.
Aladdin at The Central Theatre (8th – 31st Dec): Immerse in the magical world of Aladdin in this delightful pantomime.
Santa Fun Run at Chatham Historic Dockyard (3rd Dec): Combine joy and health in a festive 5K run.
Gillingham's Paw-tastic Event
Meet Chase from Paw Patrol (24th Nov): Let the little ones meet their hero, Chase from Paw Patrol, in a dream-come-true event.
Rochester's Winter Wonderland
Jazz and Blues Festival (15th – 18th Nov): Groove to jazz and blues in this musical extravaganza.
Christmas Market (25th Nov – 10th Dec): Find unique holiday gifts at this charming Christmas market.
Dickensian Christmas Festival (2nd – 3rd Dec): Step back in time for a traditional Dickensian Christmas celebration.
Victorian Christmas at Eastgate House (2nd Dec – 7th Jan): Experience the historical charm of a Victorian Christmas.
Costume Sale for Dickensian Festival (18th Nov): Prepare for the festival with a special Dickensian costume sale.
The Mistletoe Ball (1st Dec): Enjoy an elegant, costumed Christmas ball.
Christmas Carol Concert at the Cathedral (16th Dec): Join the community for heartwarming Christmas carols.
Storytelling with Victorian Father Christmas (18th – 23rd Dec): Be enchanted by tales from Father Christmas himself.
Candlelight Christmas Love at The Corn Exchange (19th Dec): Enjoy the melodious Christmas classics in a serene candlelit atmosphere.
These events showcase the diverse, family-friendly activities available in Medway this Christmas, offering everything from theatrical performances to historical experiences and festive markets.
Here are some more general ideas on family and kid friendly Christmas activities in Medway:
Creative Fun: Christmas Craft Workshops Engage in creativity at local craft workshops. Places like The Brook Theatre run sessions where families can make decorations or gifts together. These workshops are not only fun but also a great way to learn new skills and bond.
Outdoor Joy: Skating and Winter Walks Embrace the outdoors with ice skating at Gillingham Park or enjoy a winter walk at Capstone Farm Country Park. These activities are perfect for families to get active and enjoy nature's beauty during the festive season.
The Magic of Theatre: Christmas Shows Medway's theatres, including the Central Theatre, offer a range of Christmas shows suitable for all ages. From pantomimes to Christmas concerts, there's something to captivate everyone in the family.
Community Spirit: Christmas Tree Decorating Participate in community tree decorating events across Medway. These events are a great opportunity for families to contribute to their community's festive spirit and meet fellow residents.
Giving Back: Charitable Family Activities In the spirit of Christmas, engage in charitable activities with your family. Food drives or volunteering at local shelters are profound ways to teach children about giving back to the community.
Festive Markets: A Treat for All Explore Medway's Christmas markets, which are a treasure trove of local crafts, food, and entertainment. These markets support local artisans and provide families with a unique shopping experience.
Homely Celebrations: Baking and Movie Nights For those days when you prefer the warmth of home, engage in baking festive treats or having a Christmas movie marathon. These simple joys are what bring families closer during the holidays.
Let's embrace these opportunities, supporting our local businesses and community, and make this festive season a memorable one for every family.